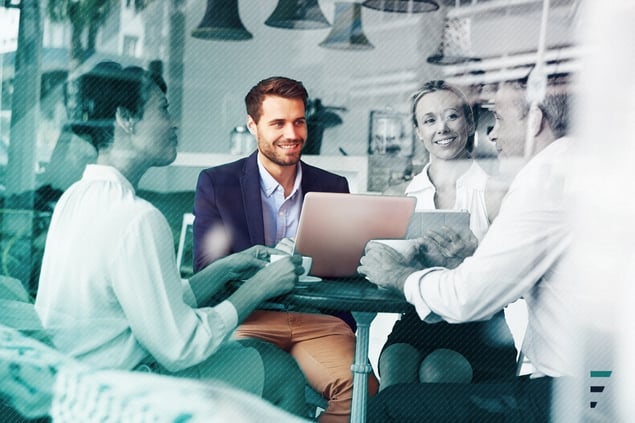 With the prevalence of social media interactions, videoconferencing, and the decline in face to face meetings, many people (including senior executives) are looking for opportunities to gather with peers in the real world. We're seeing the resurgence of small group events to get senior executives out of the office to share ideas without the distractions of the work environment. It's an opportunity to reflect on big picture trends and challenges they might be seeing.
The 'lunch and learn' and 'peer roundtable' concept is nothing new. Here are the ingredients of generating leads through hosting such an event:
Pick a desirable location that is central to your prospective buyers
Choose a highly relevant topic as the center point of the discussion
Get a good speaker that is recognized as being a thought leader by your potential buyers
Execute! Ensure that those invited RSVP and they attend
Number four is particularly important, as it's where most companies struggle. How do you make sure people attend? An organized outreach strategy should be central to your efforts.
Secure Anchor Attendees
Your first step (maybe even before nailing down the date) should be to contact some potential attendees whose names and/or titles would be recognizable to others in the industry. These participants will ultimately bring your event to a larger audience and increase your prospecting reach. It's important to try and build a relationship with this marquee group of attendees, and demonstrate value based on their interests.
The phone is an excellent channel for communicating with this group, because it allows for more personal communication. On these calls, some of our clients pique interest by mentioning the speakers, while others use a limited offer to incentivize the first few executives to RSVP.
Use All Your Channels
Anchor attendees require a greater investment of time and attention than the rest of the executives who are invited. After using the phone for this first group, your strategy with the remainder of the invite list can be more strategic and surgical. Use email, regular mail, phone and voicemail, and even LinkedIn messages or text for those who express interest but don't RSVP right away. One way to leverage different channels without overwhelming the prospect is to reserve one key detail for each method of outreach. A client of ours who conducts several roundtable events per quarter uses the following contact plan:
Email with the name of the event and the topic, referencing information to come via regular mail
Formal paper invitation with the time and date, referencing a follow up date
Phone/voicemail with a short follow up message and reference to the speaker
LinkedIn or text to prod people who indicated they may be able to attend
By staggering your value proposition across channels and times of outreach, your prospect is less likely to feel inundated with messaging. It's also helpful to personalize each of these value propositions to each specific prospect to whatever extent possible.
Follow the 80/20 Rule
As much as the purpose of the event should be to gain exposure and generate leads, it's not necessarily what your company does that will drive attendance. It's the other executives who will be there, the topics and trends they are hoping to discuss, and perhaps a recent event or news story that could serve as a catalyst for opening the conversation. Your invitations and communications should be 80% about why your prospects should care about the event and 20% about you and your company. Unless your email or conversation with the prospect is very long, the 20% should come out to no more than two sentences. The lion's share of your messaging can focus on the three elements above. Consider including a list of confirmed attendees in your email communications. Use phone or voicemail communications to highlight trends or recent news that connects to your event.
Whichever channel you use, remember to keep the content customer-focused. This applies to subject lines as well – reference the event and the topic, not anything about your company. The same principles from more traditional prospecting apply to event-focused efforts as well. By focusing on providing value first, your desired audience will be much more likely to attend.