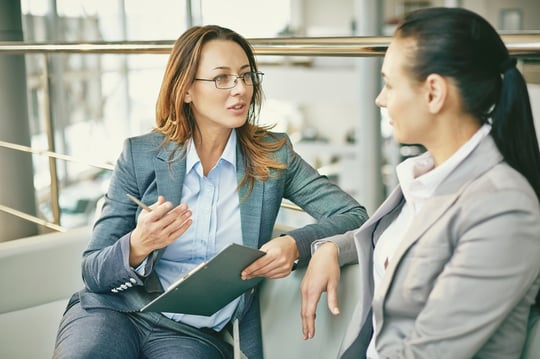 I received this email from my friend and former football coach Gary Milwit who leads a 100 person inside sales organization.

Steve,
I have been working hard to debunk the negative connotation associated with the term "Micromanager". The perception and usage of the word itself is like a business curse word. My issue is that in its most negative form micromanagement is a bad thing but in a different light I think every sales person needs to be micromanaged in a positive way. An NFL quarterback is being micromanaged on every single play. By having a speaker system in the helmet coaches can give direction and spot issues with the defense in addition to calling the next play(s). The best quarterbacks use this system as a tool. They study hard enough to be able to audible out of the set play based on any slight change in circumstance. The elite want the tools. They welcome the inspection and they relish in the attention.
Isn't micromanagement really a form of position coaching? Knowing that a position coach can't play; instead we hire them to make sure the players are paying attention to every little detail. How shoes are tied to where the left foot is pointed is a micro as it gets. I think the people who are not as good use the term micromanage the most so that they can hide long enough to get better. I know you've done studies on this stuff and have an opinion. My goal one day is to go in front of a large crowd of front line managers and sales people to present something like "Your micromanager is your friend."
You can respond or simply delete and wait until you see me to discuss.
Gary R. Milwit
Senior Vice President
Stone Street Capital, LLC
Hmmmm. Thought provoking. This is a conversation we need to have in B2B sales. Sadly I don't have any specific research on micromanaging that adds to the conversation (but we do have a great ebookon sales management that touches on micromanagement), so I'll instead talk about my personal experiences. First let's look at the sales management side.
I have been called a micromanager. Have you? When you do it's a shot in the gut. It sucks the air out of the room. Nothing stops the discussion more than dropping the micromanager bomb. I have been told that micromanaging is telling people what to do then how to do it. To be a successful manager you need to allow your people latitude to do what they need to do the way they see fit to do it. Stay away from telling people how to do their jobs. As soon as you look over their shoulder at the 'how' you are micromanaging.
If that's the case, then how is anyone supposed to get better with how they do their jobs? Isn't something like sales training all about the how? Should we forego training on the 'how' lest we become micromanagers? Further coaching is ensuring that the 'how' is followed so that behaviors change. Shadowing sales reps to see how they plan and execute sales calls or do lead qualification sure feels a lot like micromanagement. And what about inspection – measuring the activities of a sales person to ensure their process is sound to meet their goals? By definition inspection is monitoring every detail of the sales rep to see that their inputs are of sufficient quantity and quality to achieve their output results. The famous coach Wooden taught us that details as small as the way the players tie their shoes matters more than you think. So aren't training, inspection and coaching by definition micromanagement?
I know I'm going to get skewered for what I'm about to say. Let's face it. A lot of sales reps (and managers for that matter) do their jobs in dumb ways. I see people doing stuff all the time that is ineffective and inefficient. Ineffective in that how they are doing their jobs isn't working to produce the results they need and inefficient in that how they do their jobs takes way too long and is not productive. The impact is they are not promoted and have less time for themselves on nights and weekends.
A real example of this is when Millennials don't organize their Outlook inboxes and save every email. Later they can't find anything. Dumb. Delete your freaking emails and file stuff better. Every time I micromanage on this point the person in question becomes more effective – they stop missing emails – and more efficient – they focus on what's important faster.
So as sales managers are we better left to allow our people to keep doing their jobs in dumb ways or is it better to be at risk of micromanagement?
Let's turn our attention to the sales rep side of the equation.
Though I am the owner of two businesses, Vorsight & VorsightBP, and don't have a manager, I like to think I welcome training, inspection, and coaching. I had two examples of receiving feedback recently. The first came from our video guy, Malcholm. We've been shooting some footage for thePrograms pages on our website lately – check them out, I'd love your feedback. After one shoot that I felt went pretty well I overheard a conversation between Malcholm and our marketing associate Beth about my video takes compared with my business partner Tom Snyder. Malcholm said to Beth that because of my 'ums,' he had to do a lot more editing on my video. At first it was a real slap in the face, then it quickly turned into a motivator for me to drop the useless filler word "um" and instead simply pause. Credit Beth for later relaying this bit of feedback to her boss (me) – she didn't know I had overheard it.
During our next video session I was prepared to not say 'um.' I thought I could do my videos free form in one take. Malcholm urged that I use a teleprompter. After five takes I realized he was right. I used the teleprompter and nailed it. Coaching from two experts – a vendor and a direct report – made it work.
The next example of me being 'micromanaged' happened when I was leading a sales training program at one of our clients in Arlington, VA. During our sales prospecting training classes we play call recordings from single party consent state. I pre-recorded a call before the class that was a good example of how to use our Call Game Plan. This was certainly not my best call, but a very average and real call illustrating the elements of our Persuasive Prospecting training program in the real world.
My business partner, David Stillman, was in the room and listening. At the conclusion of the call recording he offered me some feedback in front of about 25 people. He asked the room – "What is Steve missing?" At first I looked at him in horror thinking "Shut up man…this is my class." Then I thought, "Let's see where this goes." He offered that I missed an opportunity to ask a key question. But the prospect was very open and conversational after my lead in and started to talk about his situation. I should have asked the prospect a question related to some of the statements I made to uncover challenges they were experiencing with the current vendor. My business partner was dead on. I knew it. He knew it. The Account Executives in the class knew it. A perfect example of a sales manager coaching a sales rep on something they have been trained on and know, yet fail to do. My thoughts quickly turned from 'shut up man' to 'you know what, you're right and I can fix that for the next call.'
This brings us to the primary point of this article and the discussion I'm trying to get started. When is it feedback and when is it micromanagement? Like Gary's point to start this article, what is the difference between good inspection, training, and coaching compared to micromanagement? When sales managers inspect activity metrics, are they furthering their micromanagement? Who is right?
I close with a thought from Bill Belichick, head coach of the recent Super Bowl winning Patriots. He is well documented at telling all of his players incessantly, "Do your job." And when that player does not do his job, he is replaced by a player who does that job. Could it be that the very sales reps who mumble and grumble about micromanagement simply need to do their jobs?
I'd love to hear your thoughts on this conversation. Please feel free to share links related to research, content, or other articles related to this topic.