Inside sales professionals experience advantages and disadvantages compared to field salespeople. The core goals of prospect interactions remain the same: establish rapport and trust, employ a consultative selling approach and move your prospect through subsequent next steps. The tactics to achieve these goals are where the differences lie. Inside salespeople are more dependent on the tech stack available to them, and keeping prospects engaged often falls on a demo. The intersection of advantages and disadvantages is where our inside sales coaching thrives.
Inside sales coaching at Funnel Clarity starts by ensuring that the technology stack serves the success of the inside salesperson. Investments in CRM and sales enablement to automation and scheduling are essential as inside salespeople add structure and efficiency to their planning and execution.
While the tech stack is important, the formula for success lies in revised strategies and tactics that engage prospects effectively, even while remote. Inside sales training with Funnel Clarity helps sales professionals:
Inside Sales Formula©
The inside sales formula for success is unique. More factors are at play that field sales personnel don't encounter. Despite these factors, inside sellers often produce more results per unit of effort than field-based colleagues. Inside sales training at Funnel Clarity focuses on a research-proven course to teach inside sellers how to maximize their results.
Turning the traditional demo focus mentality on its head is a crucial step. Years of inside sales coaching and analysis has allowed us to identify a formula for how to develop and implement a powerful inside sales force, accelerating deals and increasing close rates.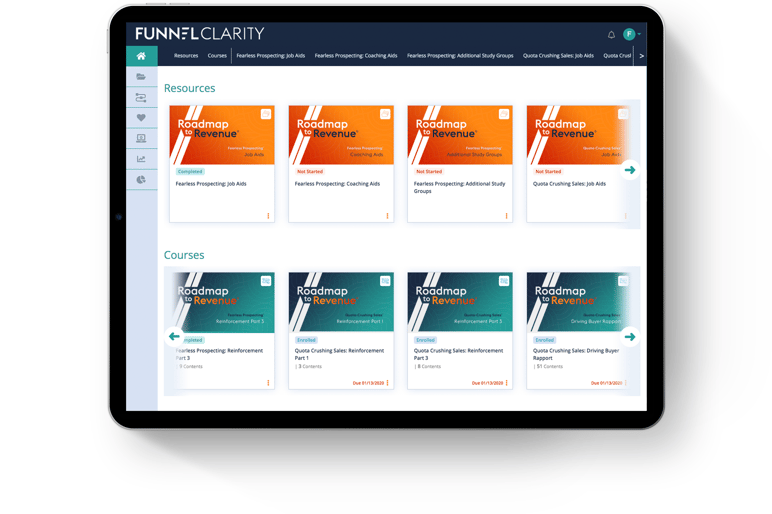 Interactive Online Inside Sales Training
Inside sales training with our online platform is impactful for sales professionals and insightful for sales leaders. Gain insight into each team member's participation, completion, comprehension and engagement with course material. Team member's can interact in group exercises and discussions to increase continuity across the organization.