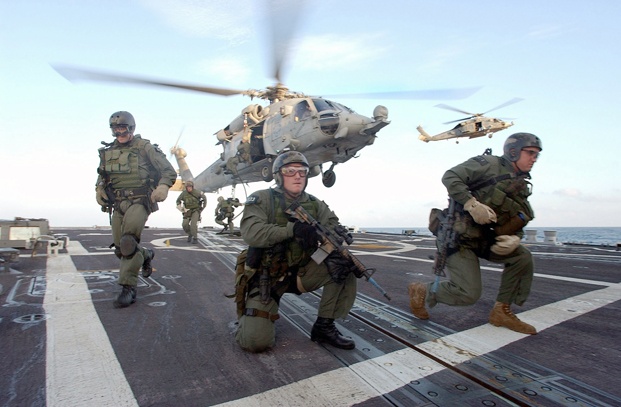 Warning: this article is only for those who want to be amongst the elite in cold calling metrics. One of the 'Navy SEALs' of modern outbound prospecting. If you are a seller who dares pick up the phone in the middle of a library-like inside sales department… if you are always on the lookout for proven best practices to help you hit your sales goal… read on.
There's a lot to read out there about the rise of social selling. There is no doubt that employing social selling principles like having a buyer-focused LinkedIn profile, listening for Trigger Events (nod to Craig Elias who owns the trademark), and sharing content will help you sell more. The rise of companies like rfactr, Hearsay Social, KiteDesk, Triblio, Social123, and PeopleLinx validates the effectiveness of social selling.
Cold Calling: Fighting the Stereotypes
In contrast, when people think of "cold calling," a mental image springs up: a character from Glen Gary Glen Ross, or salespeople stuffed into a basement dialing through the yellow pages rapidly trying to improve their cold calling metrics. This is the opposite of what we mean when we say "modern prospecting." Modern prospectors are strategic, thoughtful, good communicators who use the phone alongside social selling. They also tend to perform at the top of their peer group. You read past the first paragraph, which means we're preaching to the choir.
Modern prospectors who want to refine their craft come to us not only to understand the "how," but also the "how much." As it so happens, "how much" is something we've tested thoroughly in our laboratory of real sellers reaching out to real prospects. What you are about to read represents the hard work necessary to perform in the top 5% of our lab. These sellers focus solely on sales development. They are given names of target accounts and are responsible for finding the right contacts within those accounts, reaching them by phone, generating interest and securing commitment to a scheduled meeting. They are pure hunters. You could say that they are the special forces of B2B sales.
The top 5% of performers secure 6.7 scheduled meetings per week on average. However, they don't agonize over their results. They focus relentlessly on the cold calling metrics they can control:
Best Cold Calling Metrics
An average of 603.9 dials (calls placed) per week (120.8 per day)
An average of 57 new contacts added to the call list per week (11.4 per day)
At least 81.6% of active contacts* have direct lines in the contact record
At least 95.4% of active contacts* have pre-call in the contact record
*Active contacts refers to prospects whom the seller is currently pursuing at a given time
The fascinating thing is these top performers tell us that they can do this in less than 40 hours (far less if they are aided by technologies such as auto-dialers and sales intelligence resources). The BDA / SDR job is one of sprinting and taking a break. The ones who learn how to put their heads down and crank out intelligent activity end up becoming like the Navy SEALs who love what they do.
Training Your Team To Succeed At Cold Calling
Imagine if each of your sales development reps could generate 6 new meetings per week with only "cold" target accounts. Or if your sellers, who might only have a portion of the week to dedicate to prospecting, could generate 3 new meetings per week. Now imagine they added social selling to their efforts and could engage even more prospects than that.
What do you think about the relationship between social selling and cold calling? Friend or foe? What are the best practices of the top modern outbound prospectors at your company?
Want more great cold calling tips? Check out our comprehensive sales prospecting guide, based on our analysis of 100,000 calls.
*Note: this blog post was originally published in Jan 2015 and has been updated for accuracy and relevance.