Most people would agree that the sales world changes often. A big part of this is due to our close relationship with innovative technology. I've been in Inside Sales for five years, and in that short time I've seen countless shifts in the marketplace surrounding telephony, CRMs, call recording, social selling and many, many more facets of the industry.
Recently, LinkedIn added itself to that list of constant change, by significantly overhauling their web interface for the first time in years. It was probably a long time coming, given the ownership changes at LinkedIn and the fact that their most direct competitors, Facebook and Twitter, are constantly refreshing and tweaking the design of their platforms.
Funnel Clarity, like many other sales teams uses LinkedIn as an integral part of our outreach strategy. As a result of the recent changes to the platform, we had to make some adjustments to our prospecting workflow. However, at Funnel Clarity, we're also no strangers to picking up the phone, and our prospecting approach has always reflected that.
I've heard from Jenna Cronin, our Director of Solutions and Delivery that often enough, when we come in to train a front line sales team, they are overly reliant on technology avenues like LinkedIn for prospecting. It's no surprise, given the amount of information prospects provide on social media.
The biggest way that the recent LinkedIn changes will affect this group of prospectors is through the search functionality. Previously, using LinkedIn's Advanced Search, you could actually determine who the right person would be to contact in some cases.
What's Changed
In this example, we are prospecting Zuora, a subscription management platform, and we want to reach the person who is in charge of their sales development function.
In LinkedIn, when you go to the Zuora company page, there is a link to view employees of that company. This is true of every company page on LinkedIn, in both the old interface and the new update, shown below.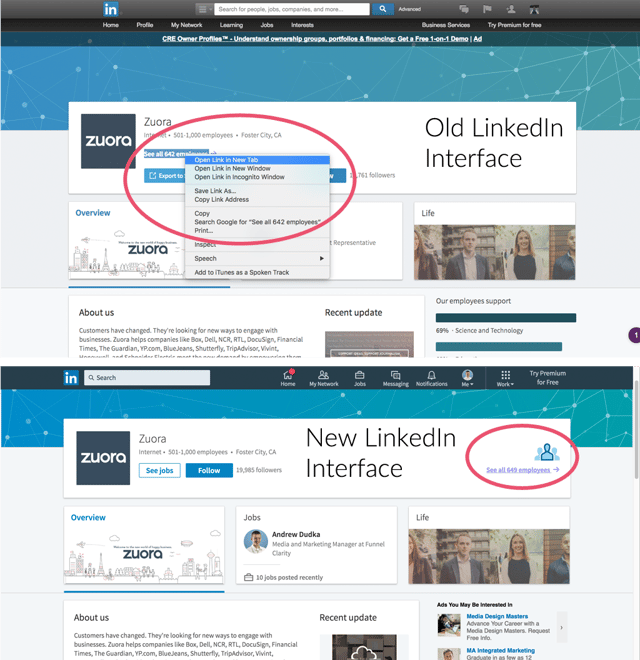 However, the tools available to you as a prospector after clicking on that link have changed drastically.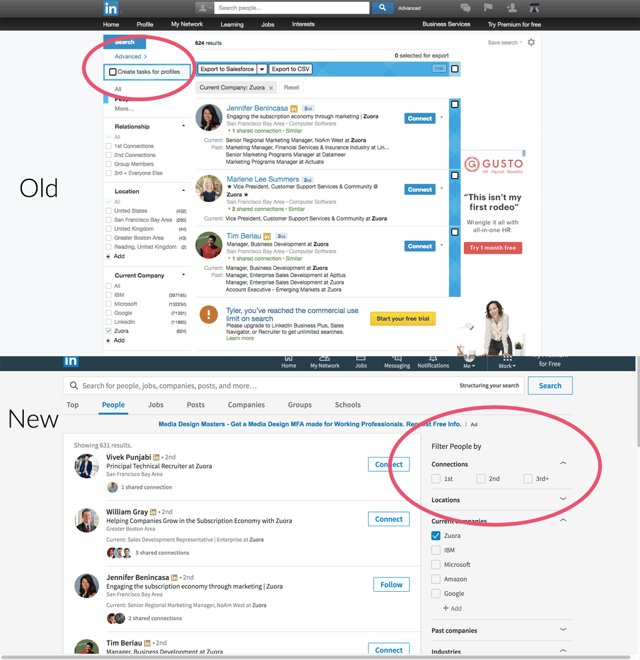 At first glance, the old and new appear to contain the same information, just laid out differently. If you look closer, you can see that the option to do an 'Advanced Search' within 'Employees at Zuora' is gone in the new version. There are still the same drop-down filters, for employee, company and other categories, but there are some powerful text-box search fields missing.
If you weren't familiar with Advanced Search, or can't remember because your LinkedIn portal has been updated, there's an image of what it used to look like below, as it would appear on the same page in the picture above: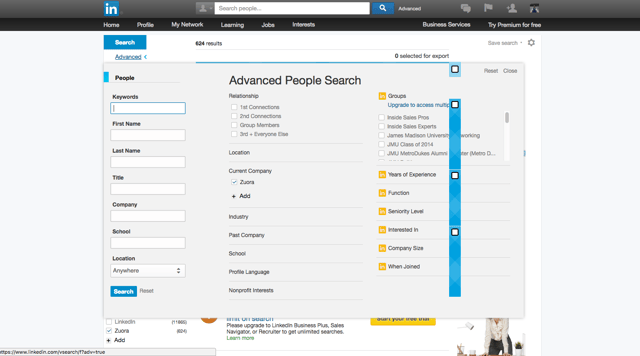 There's a lot to break down here, (we cover using LinkedIn searches in-depth in our Persuasive Prospecting© curriculum) but the most attractive fields that jump out right away to any SDR are 'Keywords' and 'Title'. Continuing on our example from above, where we are trying to identify who to speak with regarding sales development within these results, our query might look something like this: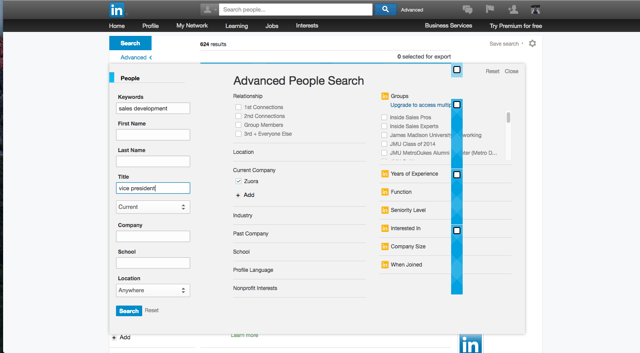 And the results we would get might look something like this: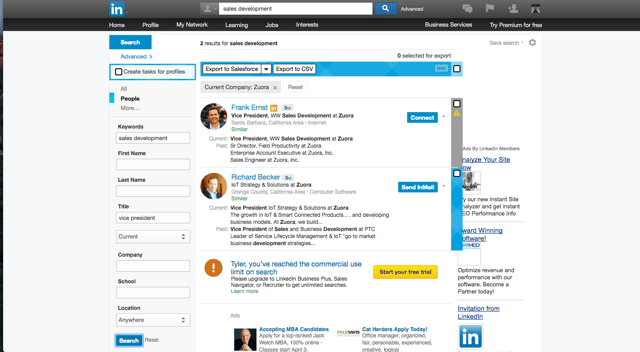 Which is much more along the lines of what we are looking for. In the new LinkedIn, devoid of 'Advanced Search', they have added a 'Structured Search' feature to the search bar, which gives you the following prompts: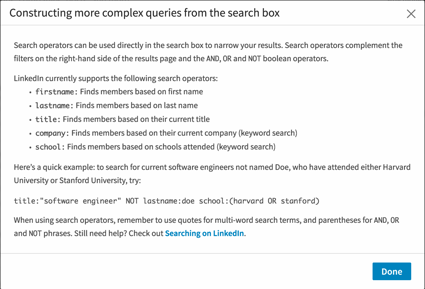 But not quite the same results: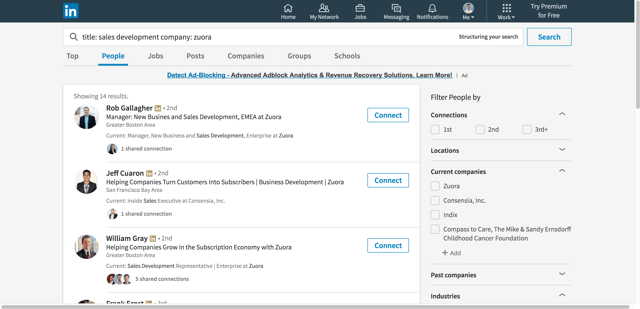 Unfortunately, it appears that at this time there is no way to replicate everything that Advanced Search offered in the old LinkedIn interface. We will be sure to update this blog post if features return (we've also provided a link to tweet at them, #bringbackadvancedsearch - if enough of us in the sales world ask, maybe Microsoft will listen.) For now, it seems like these updates are a conscious push towards encouraging users to opt for LinkedIn Premium.
Now What?
So LinkedIn has changed, and you can't use it to identify who to target as easily anymore. But prospecting goes on, so what do we do? Well for starters, as I said at the top of the page; picking up the phone is a great place to start. Stats show that cold calling is alive and well, despite what many like to claim. But so is social selling, and any good business development strategy includes a healthy amount of both.
In this situation, it's important to be able to step back and consider the purpose of prospecting in the bigger picture. SDRs need to get relevant info and become credible to people they don't know. In 2017, LinkedIn is far from the only place to do that. There are paid sources like, ZoomInfo, DiscoverOrg, RainKing, LinkedIn Sales Navigator as well as an abundance of free resources, like company websites, press releases, Google and other social media platforms. All of these avenues offer useful information that you can use to differentiate yourself with prospects.
More specifically, since the update at Funnel Clarity we still use LinkedIn a lot, just differently. Instead of finding prospects through LinkedIn, our business development team uses other sources (like the ones named above) to identify prospects, and then check their LinkedIn page for background information. LinkedIn pages will always be a great source of information for pre-call research.
Don't Forget the Conversation
Ultimately, drastic changes in the sales technology landscape are one thing you can always count on, and each one demonstrates the same truth: If your business development team relies too heavily on technology, they will be left behind when it changes. Because it will change. With the abundance of sales technology tools available today, it's easy to forget about the importance of the human interaction.
It's vital to have skilled prospectors who can think critically about the task at hand, and be strategic about their communicating methods and channels. You don't get those kind of prospectors unless you train them, and that's what we're here for.