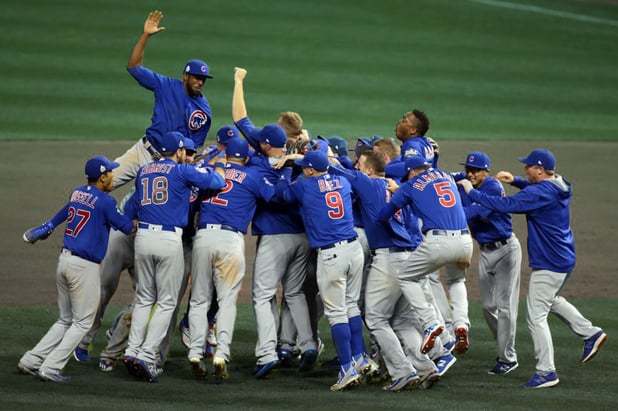 Charles LeClaire/USA TODAY Sports
You must have been living under a rock if you missed the Chicago Cubs' 2016 World Series win, ending a 108-year losing streak. The win caused some incredible celebrations from the devoted fan base, rallied support for the team within Chicago and earned them sympathizers across the country. Just not in Cleveland.
This year, there's a lot of pressure for the team to perform again. As the month of October and playoff baseball continues, the question remains: will the Cubs be able to meet expectations and make the World Series?
Sales teams are familiar with this feeling. After of a year of outstanding performance, how do sellers perform equally well next year, or at an even higher level? Joe Maddon's leadership as Cubs' Manager offers sales people a few lessons on how to maintain a winning streak.
Celebration
When you experience a big end-of-year or end-of-quarter success, celebration is very important. Not only does it acknowledge the win and reward team members, but it also represents a moment of re-setting and reorienting goals to continue achievement.
For example, Maddon took the Cubs to Disney World four days after the World Series win. They also made the customary White House visit before the new season– but then it was back to work. These celebratory moments are necessary to revitalize your performers and foster a desire to keep getting better.
Motivation
Every year has ups and downs, and you can't always expect that sales teams will be ahead of targets. Celebration is one kind of incentive, but motivation is about protecting and boosting morale when performance is low.
Back in July, when the Cubs were down 11-2 without hope of coming back to win the game, Maddon decided to put in a position player on the pitching mound. He had a few of the guys play "rock, paper, scissor" to determine who would do it. Instead of remembering that game as a sore loss, players and fans could recall a bright spot and a fun story.
This is a strategy we don't utilize enough as sales leaders. When the team is in a slump, why not have some of your SDRs tag team a few customer success calls, or your AEs prospect a few of their SDRs' accounts? This perspective into other parts of the business could be just the right kind of catalyst your sellers need to get back on track.
Improvement
The best ways to improve team performance can change throughout the year. Maybe at the beginning of the year, the focus is on devoting more time to coaching. Six months later, you may realize that coaching isn't having the desired impact, and it's necessary to find new training on more advanced skills.
The key is to have milestones throughout the year, defined goals, and a theme that the team can rally around. If everyone is using the same baseline and targets, it's far easier to determine when to change gears.
In the Cubs' case, Joe Maddon began the 2017 season with a pure player-development plan. After the All-Star break, he re-evaluated those efforts and changed to a win-now strategy. The Cubs' current playoff run is an ongoing demonstration of the effectiveness of that improvement.
Consistency
When any team experiences great success, there's often one core element propelling them to victory. It's not very useful to think broadly, such as: "the result was excellent last year, so just keep doing whatever you were doing!"
Some reflection is necessary to identify key aspects of the efforts and culture that was behind the success. Instead of assuming those areas are strong, focus on doubling down and reinforce existing strengths.
Maddon's approach was always to use his entire 25 man-roster. He felt a big part of the team's success was their ability to adapt, and every player's readiness for the big moment. Anyone could be the hero.
The Cubs' 2017 slogan says it best: "Uncomfortable." Sellers and managers need to believe that what worked last year, won't necessarily work this year. Leaders need to look for ways to avoid becoming complacent and translate year-long strategy to the quarterly, and day-to-day level.
While the Cubs no longer have a "curse" to overcome, they have a new, potentially more difficult obstacle: expectations. And like every sales person who's ever exceeded goals only to earn a doubled quota, these four points are a valuable guide. As playoff baseball rolls on, Joe Maddon and the Cubs are a great example and inspiration to appreciate.
Learn how to sell to any buyer (eventually).
Watch the webinar with Chad Burmeister:
How to Find Your Market: Engage Prospects Who Are Ready to Buy, Develop Those Who Aren't