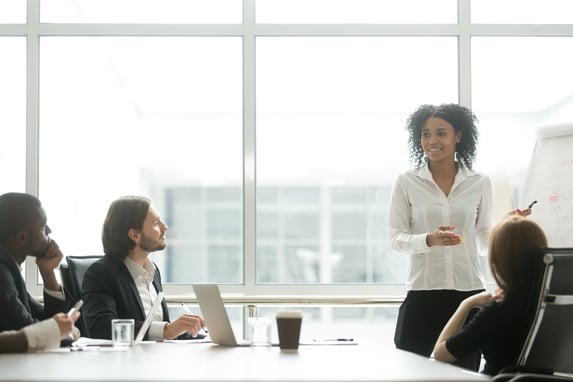 Sales acumen is an understanding of prospects and a sense of how to approach a sale. Your sales acumen isn't something you learn in a class, or two. You develop it up over time.
There is no specific degree required for a sales position. While it can certainly help to have a business degree, especially for leadership roles, it is by no means a requirement. According to a study from HubSpot, business degrees are the best represented in sales, but a wide range of studies also lead to sales people, including English, Social Sciences, and Computer Science.
Even if you have a business background, the business world moves quickly, and all sales professionals can benefit from improving their business acumen. This is especially true for young sales professionals. Knowing more about how businesses work and the economic environment they operate in can build confidence, increase knowledge, and provide the understanding needed to ask better questions.
Here are four steps you can take to build better sales acumen and improve sales performance:
Tip 1: Subscribe to an Equity Market Newsletter
There are a quite a few different services you can subscribe to in order to stay up to date on the market, such as Wall Street Breakfast by Seeking Alpha, FastCompany, Management Tip of The Day by Harvard Business Review and more. Consolidation is a trend in almost every industry and major acquisitions can impact entire industries. Therefore, it is a good idea to stay on top of the latest market news and trends. It will foster a better understanding of your prospect's world.
Tip 2: Stay Up to Date on Global Events
Businesses are more interconnected globally than ever before. Almost all companies are part of a global supply chain to a certain extent. Political environments in a certain region of the world impact companies' bottom lines. Being up to date on different areas of business can pay. Understanding legislative hurdles, or changing financial conditions in a certain market can clue you into important changes. This can provide a competitive edge over other sales professionals by giving you an intriguing window to set up a meeting with a prospect.
Tip 3: Learn How to Read Financial Statements
Anyone can read books to develop sales skills. But you don't need a finance degree to understand what people actually mean when they say, "bottom line." If you are selling to public companies, quarterly statements can provide a wealth of information. You can learn which business units were profitable, what their future strategy is, and even general knowledge about trends in their industry. You don't need an in-depth understanding of accounting and finance to understand a financial statement, but you should know the difference and relationship between assets and liabilities. Learning the language of business can go a long way.
Tip 4: Establish a Mentor-Mentee Relationship with Business Leaders
There's a lot to gain from staying up to date on the market and global events through news and reference materials. However, few things are as valuable as being educated from someone with real-life experience. As a sales rep, you can probably identify a couple of people right now who have a lot of experience in different business situations. You may know someone who is running a business or leading a certain department. The owner of the business you work for, your current boss, a client you've established a good rapport with—these are all fantastic potential mentors.
People love being able to help others, especially young professionals who are hungry to learn. Once you establish this relationship, you have someone you can go to to ask specific questions about the business implications a client will have due to your solution. Mentors can give you lessons on specific topics that you are most interested in learning about. A mentor-mentee relationship can keep you from needlessly reinventing the wheel.
Every Little Bit Counts
You don't have to spend a lot of time to build your understanding of business—selling is obviously still your primary focus. Staying up to date on the market and global trends shouldn't take more than 10-15 minutes out of your day.
The newsletters that you start reading may not make sense at first but give it a few months, and the big picture will start to come together. You may have to try reading multiple financial statements before you can easily interpret them, but that effort will yield great results. The first person you approach to be your mentor may not be the right fit for you, but you will find someone who is eager to develop that relationship with you.
In the long run, a little bit of effort developing your business acumen every day will make you a better and more valuable sales person. And lead to more closed deals.