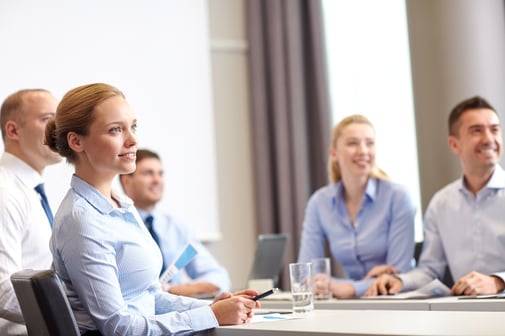 Millions are spent each year on training for sales professionals on number of topics. Some organizations re-train on the same topics over and over again, changing training suppliers in search of the silver bullet that will finally make things stick.

While there are differences in many of the training offerings out there, the bottom line to making that training successful is how it is reinforced and coached by the sales managers of an organization. Over the next few blogs we will explore some of the issues being faced by sales managers in making training stick and how to address each issue. It all starts by recognizing that any training is about managing change, its acceptance and its integration.
But first we need to define management. In our definition, it is front line sales management, the executive team and anyone in management from departments that touch the customer.
Among the topics we will highlight are:
The need to "inspect what you expect."
Knowing what to measure…activity vs. productivity.
When is the right time to get involved…and the pitfalls of taking over.
"Do as I say not as I do" does not work…and do I know how to do what I'm asking you to?
Silo focused training "for sales only" is destined to fail.
Change requires refreshers.
Understanding the impact to all areas of the business.
Today: the need to "inspect what you expect."
A colleague of ours once had the sales managers in a coaching session raise their right hand and swear that anything they asked their reps to do, they would review and discuss with the rep. While comical at the time, this had two purposes: making sure the managers asked for activities that were impactful and helping them realize that whatever they do ask for, needs to be monitored and coached.
Any training engagement means changing how people are doing what they are doing. To think they get it all from a two or three day training class is setting everyone up for failure. So, it's critical to determine what is going to be inspected, how often and when. The company contracted to provide the training should have the experience and knowledge to provide recommendations based on other client experiences. Internally developed training is not off the hook. Realistic expectations need to be discussed with the managers based on their observations of individuals on their team.
Inspection can be a one-size-fits all to achieve the desired objectives but the coaching needs to be tailored to the individual. Focus on individuals who are open to the change but just aren't sure how to execute vs. spending too much time trying to convince detractors to get on board. You don't want to lose the support of the willing by ignoring them for the unwilling.
So here's how to set it up:
Define what will be inspected and what success looks like.
Determine the cadence for inspection and coaching and schedule the time as a priority.
Have the reps self-assess, including evidence as they see it.
Provide evidence and an action plan to support any feedback you provide. Focus on the positives too, not just the negatives.
Next time….Knowing what to measure, activity vs. productivity.