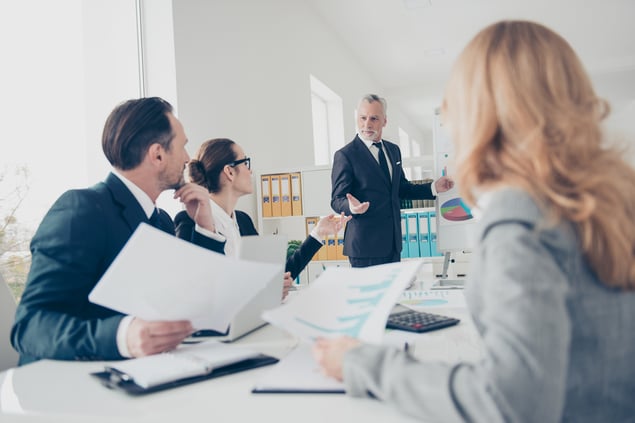 "A thirty-year veteran improved his ability to add new opportunities to his funnel by 500%!! Impossible. Whoever heard of a 30-year veteran learning anything new about sales?"
That rather cynical reaction was an actual statement from a senior sales executive who was encouraged by his CEO to consider prospecting training for his sales force. Like most successful people in sales, this executive was a firm believer in the some of the standard excuses about prospecting:
Prospecting is what junior sellers have to do- It's beneath a veteran seller to be expected to prospect.
It doesn't really work anyway….only social selling really works.
Finding leads is really Marketing's job.
Sound familiar? If you have been in sales for more than a few years and are successful, chances are, you too believe the statements above to be valid. They aren't, and Funnel Clarity has the data to prove it.
Over a six-year study of more than 100,000 prospecting efforts, made by real sellers working in more than 100 different companies representing 19 industries, we learned that these prospecting platitudes are mere myths.
That study revealed a surprisingly small collection of techniques that not only allow sellers to increase their sales funnel contributions by more than 300%, but also revealed just how wrong these myths are.
Many companies today have a cohort of SDRs/BDRs whose primary job is to set appointments for more senior sellers. Some of the most cogent insights from our study apply just as much, if not more, to these senior sellers, and training has proven to be extremely effective for experienced sales people. There are five ways even seasoned sales pros benefit from prospecting training:
Less dependence on Marketing

I

t

's

noteworthy that tenured sellers had the greatest improvement in overall funnel opportunities once they

adopted prospecting methods

. The result was not only less dependence on Marketing, but also less friction between Marketing and Sales.

Fewer opportunities in the funnel, but far more productive sellers.

This is one of the more surprising results. Most experienced sellers find that they have fewer opportunities in their funnel after training, but that far more of those opportunities are "closable" deals.

Cross-Sell and Up-Sell rates improved dramatically.

Logic dictates that making additional sales into an existing customer is far easier than acquiring a new customer. Our research revealed that it is not quite that simple. However, by understanding the principles and techniques of prospecting, experienced sellers find more such opportunities and uncover them with less effort

, even in existing accounts

.

Better leverage of the tech stack.

Efficiency is one of the

most important aspects

of being an effective prospector. Most companies have a stack of applications built onto their CRM platform. Experienced sellers often gripe and chafe at having to use these tools. Once they recognize how advantageous these applications can be to someone who is looking to fill the top of their funnel, they find themselves increasingly active and comfortable with the technology that they had been viewing as an imposition.

Prospecting—believe it or not, actually becomes fun.

Even experienced sellers find rejection to be an unpleasant consequence of prospecting. However, once an experienced seller understands how to minimize hang-ups, brush-offs and ghosting most report that they actually look forward to

getting an opportunity

to prospecting. Even when there is not an opportunity with someone they reach out to, their emails are answered, and their phone calls result in real professional-to-professional conversations.
There is still resistance among senior and/or tenured sellers to the idea of prospecting. For many of them, it is viewed as something that junior people do to more or less "pay their dues". Unfortunately, nothing could be further from the truth. Our data proves that encouraging your seasoned sales professionals to leverage the science of prospecting can yield phenomenal results.
Want to train your team in proven prospecting techniques? Check out our comprehensive guide to sales prospecting, based on an analysis of 100,000 sales calls.