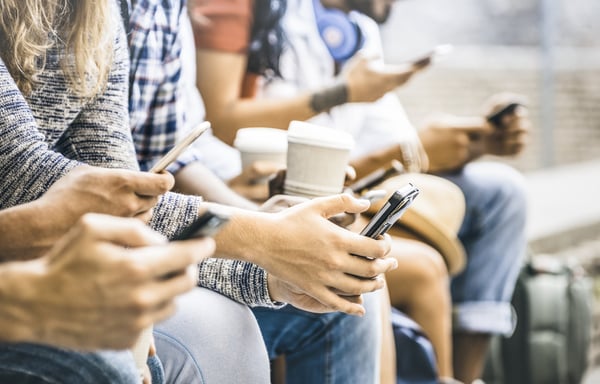 This isn't another blog to add fuel to the fire around the debate of cold calling v. social selling and which one is better. When done properly, data has shown that cold calling and social selling are both effective. Data has also proven that sales teams who implement a multi-channel prospecting approach that includes cold calling, social selling, and emailing into their outreach cadences produces significantly better results than teams that did not.
Even with all of this data, the common misconception is that implementing social selling in a sales organization replaces the need for salespeople to pick up the phone and call. Here are four reasons why that's not true:
Finding the Right Prospect
Social selling is a great technique for sellers to find new accounts and prospects. However, since the information they gain from social media is only as good as the person who put it online in the first place, sellers may not always find the right prospect based off social media research alone.
Prospects may not enter the most up to date information on themselves, or if the information is up to date, it may be vague and generic, such as a simplified version of their real title. If sellers solely rely on boolean search and other social selling tactics to find new prospect's, they may not find the correct contact.
It's also important to point out that when prospecting, it's about the responsibilities, not the title of prospects. Rarely do prospects list out in detail what their current responsibilities are in their role anywhere online.
Therefore, while social selling is a great starting point to find potential prospects, it should not be your sellers only step. Have your sales team call into their account to speak with switchboards, admins and other contacts to confirm their findings to ensure they're reaching the prospect with the correct responsibilities.
Uncovering Challenges and Pain Points
Your sales team can uncover a lot of useful information on a prospect from looking at their social media accounts – work history, tenure, mutual connections, alma mater, interests, etc. What they will not always uncover from social selling is what their prospect's current initiatives and pain points are.
It's not often that a prospect posts: "I need help with XYZ issue..." or "my current challenge is X" on social media.
The most successful prospectors leverage the information they find online as a way to warm up the cold call and be proactive with their efforts. They also use that information to come up with a reason for outreach that they can justify their call with.
After warming up the call with what they gleaned from social media and other sources, sellers can then have a conversation to understand what challenges their prospects are facing and determine if there is reason to continue the dialogue.
Gaining Calendar Commitment
This is one area in particular where sellers reliant on social media will struggle: securing time on their prospects' calendars. Social selling is about making connections, raising awareness, and providing value to potential customers over social media – not closing the deal or gaining a calendar appointment. There is also no guarantee that a prospect will reach out to you directly when a problem arises.
An effective engagement over social media and a genuine belief that you can help the prospect should indicate a customer is open to further conversation, not a calendar invite. If your sellers can legitimately say yes to both of these factors, then it's time for them to pick up the phone to secure the appointment by leveraging what they've uncovered through social selling. If the prospect raises an objection when going for time, our research has shown sellers have a significantly better success rate if they handle the objection over the phone rather than email or social media.
One Size Fits All
Social selling, like any other prospecting tactic, is not a one size fits all method to generating new opportunities. Every industry, company and prospect are different – some may be more active on social media than others (if at all), and have their own preferred method of being contacted.
You don't want your sellers to miss the opportunity to engage with an excellent prospect just because that particular target doesn't have social media or prefers a different channel of outreach. For these reasons, the ideal prospecting cadence consists of multiple channels such as the phone, email and social media.
Conclusion
Social Selling gives sales teams the ability to find, nurture and connect with new potential customers in a way that wasn't possible just 10 years ago. There are many positives of social selling – especially when combined with other channels – but there is also a misconception that social selling will replace picking up the phone. In order to maximize your sales teams prospecting results, acknowledge that social selling is not a one size fits all solution and incorporate social selling as a single step of many in your team's outreach efforts.
Want to train your team on how and when to contact prospects? Check out our comprehensive guide to sales prospecting, based on an analysis of 100,000 sales calls.